Sharing Moments from The Last Year by Jill Talbot
By Charlotte Hamrick
In The Last Year, published by Wandering Aengus Press, Jill Talbot chronicles the year before her daughter leaves for college. It's 2020, the first pandemic year that leaves its footprint on the lives of both women but doesn't dampen their spirits or close relationship. As I read this book, I was impressed over and over again by the relationship between this mother and daughter and how Jill has generously shared her intimate thoughts with the reader. One might think a mother-daughter memoir might appeal only to women who have given birth and raised a child but one would be wrong. Yes, there is a strong theme of parenting but these stories also talk about grief, family, struggle, joy, and resilience. As a non-parent myself, I found so much to identify with in this book and so much wisdom to be gleaned about life and what we cherish.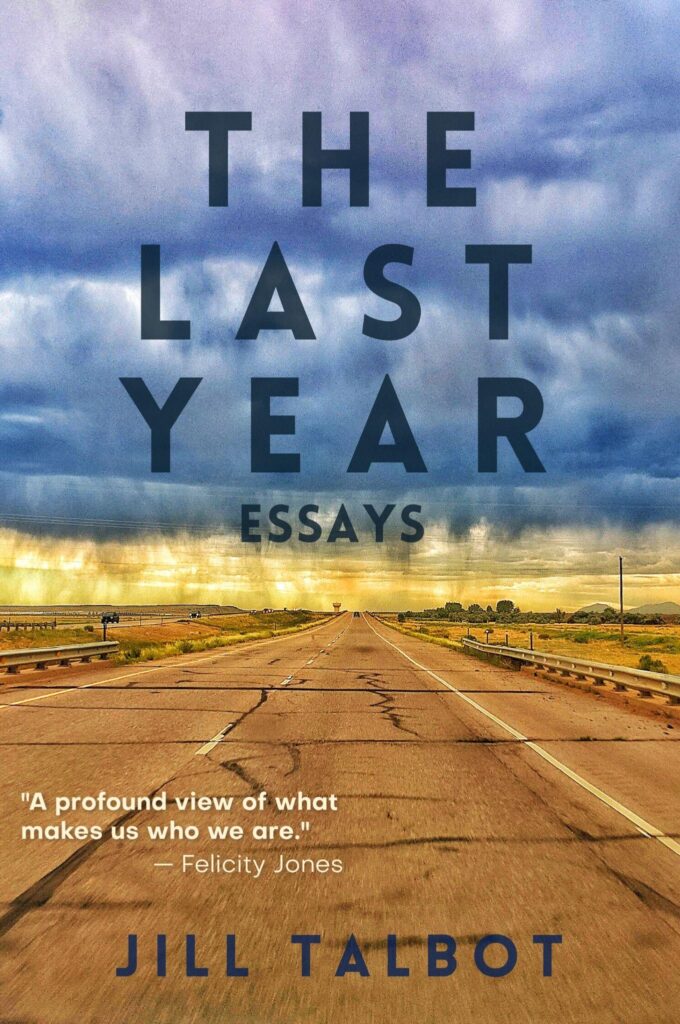 I recently talked with Jill about The Last Year for Reckon Review.
---
Your Prologue, "Road Grad," is a powerful opening to the book and brought on an explosion of memories from the first pandemic year when I read it. Even though I'm not a parent, I was deeply affected reading your account of how the lock-down affected your daughter in her senior year of High School. I think readers will think about their own senior year, or their child's, and feel a sense of sadness for what was really taken from the class of 2020. And yet, you created special moments for Indie within the constraints of the pandemic. I wonder if you and/or Indie felt a sense of power by taking the loss and turning it into a unique experience? Because it felt powerful to me, as a reader.  
I clearly remember that Indie, nor I, ever bemoaned the losses of that year. She told me once that she thought we could handle the situation, the lock down, because we had been through so much, moving consistently to different cities and states, the loss of both of my parents only a year before (the only grandparents she knew), and the financial limitations we had always endured. We had both had to adjust to so much, for so long, that we figured out ways to do it during the pandemic. Indie started working for DoorDash—I taught writing workshops online, both for my university and for Writing Workshops Dallas. She and I created ways to have our own spaces during the day (and I was writing the column, unbeknownst to her), but we always met on the couch at night to watch our shows (All American, The Fosters, and its spin-off, Good Trouble, Ghost Adventures, and we finally started Schitt's Creek!). What I think you're referring to is the essay about our half-tank trips we started in March of 2020—when we'd drive an hour or so to different landmarks I had picked out or small towns with interesting histories or haunted places. We'd go about once every week or so. Leave in the morning. Just go, you know? Get on the highway and drive and discover and share memories from the last eighteen years, something I think that's a common reaction to leaving home, leaving a parent, assessing the life you've lived and dreaming of the life you're about to begin. The drives were good for that.
Reading about the drives was entertaining and educational. I wish I'd thought of doing that during the pandemic. Which trip was the most stimulating or memorable for you and Indie?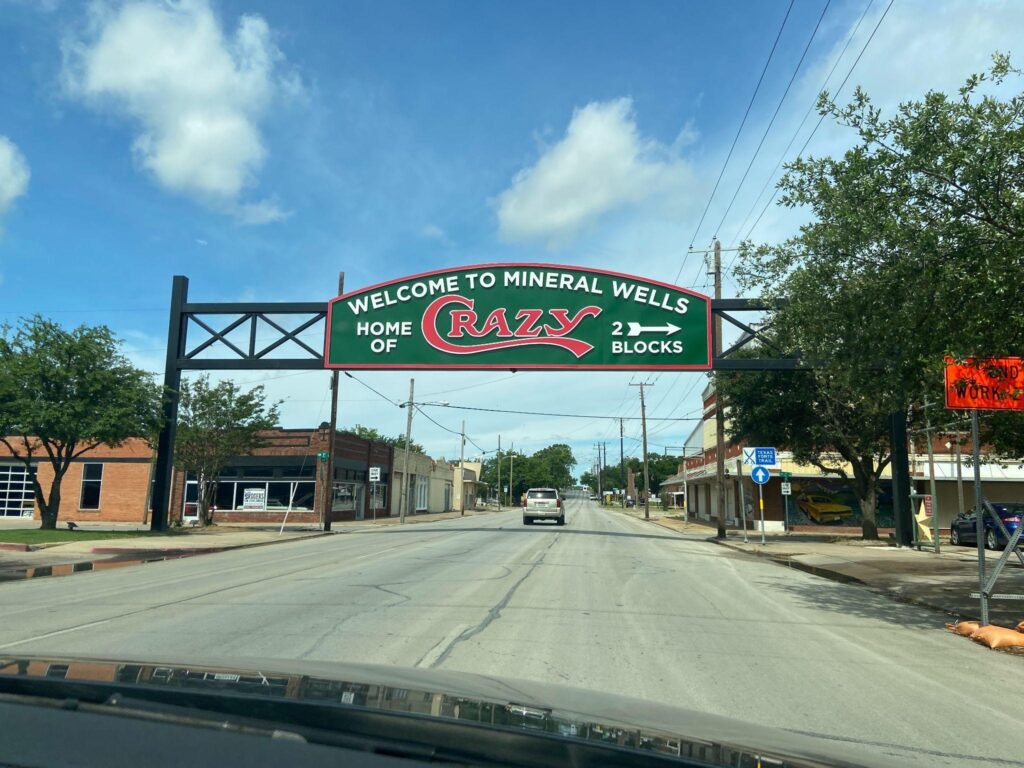 The one to the Baker Hotel in Mineral Wells, Texas, which is about an hour and a half west of us. That morning, we headed west—that was the only plan. As I mentioned, we'd been watching lots of Ghost Adventures, and Indie wondered if we were near any locations, so she Googled and discovered we were about thirty minutes from the site of the "Crazy Town" episode (it's a pretty good one!). The fourteen-story Baker Hotel can be seen from miles away, rising above the trees. As I drove, Indie read aloud about the hotel and its history, its closure in 1972 . When we got to it, it was under restoration, surrounded by a chain link fence. We drove around it, again and again, looking up at the windows on the top floor, many broken or missing, while Indie read about the town's famous mineral water, the hotel's pool, the stars who stayed there, including Judy Garland. Indie found a 1943 photo of Garland mailing a letter from the Mineral Wells post office, so we tried to find the original post office (didn't), and I imagined Garland walking the sidewalk in her hat, dress, and heels. We found The Famous Mineral Water Company, and the next time we went to the grocery store back home, we bought a bottle of Crazy Water and tried it (didn't like it), but the bottle's still in our kitchen. Now I collect vintage postcards of The Baker Hotel.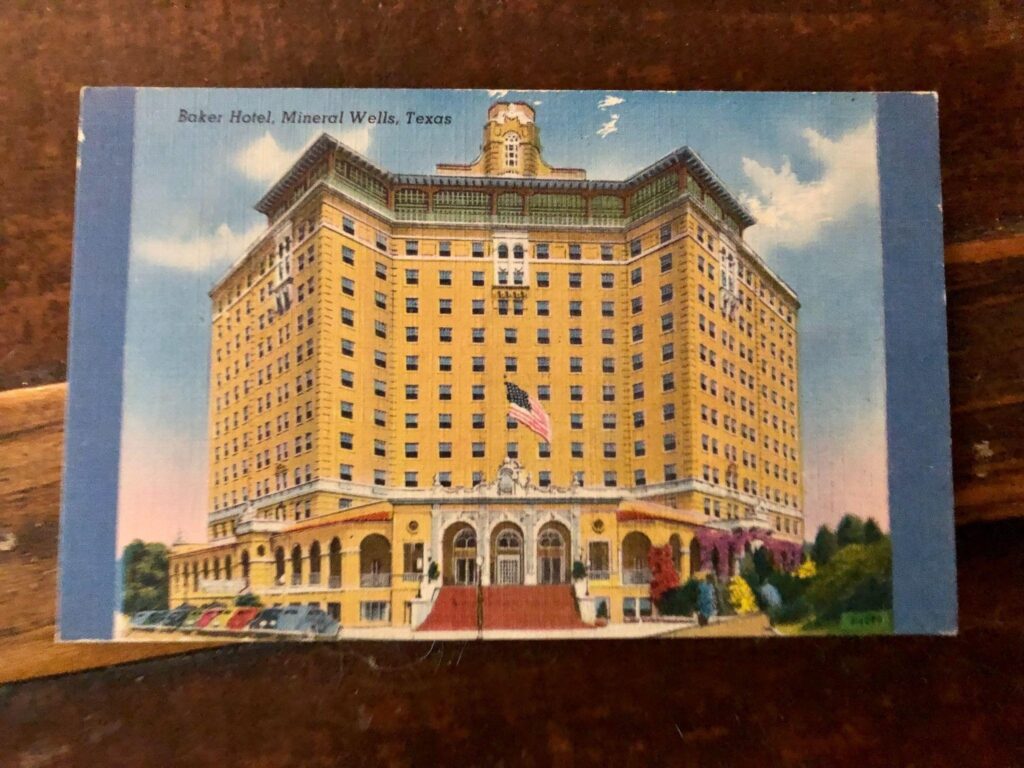 There are so many layers in your essays. Mothers and daughters, fathers and daughters, parents and children; stories about individuals that are like tributaries constantly in motion, mingling, traveling with the mother river, but eventually flowing away again. Motion is a strong visual throughout the book. Besides the obvious element of your many moves due to your profession, how else do you think motion played a role in the writing of these essays? Was it organic or a deliberate thread?
I have to tell you a quick story, then I'll answer your question. When Indie was little, we watched American Idol. We'd laugh at how much people on the show used the word, "journey." So we started clapping twice every time someone said it (still do). While I was writing "The Last Year" column for Paris Review, someone called to interview me about it and asked if I thought if after the pandemic—that literature, film, our culture would reflect isolation and solitude or journeys and travel. I don't know if you've noticed, since the pandemic, how many commercials and ad campaigns use the word "journey." It's a lot of clapping, I can tell you that. I've always written about roads, about leaving, moving on, so that's endemic to my writing… But I'm sure part of the attention and emphasis in motion became a way to travel vicariously through the essays at the time. The last essays in the collection were written while we were on the cross-country trip to take Indie to college. So those, I would say, emerged organically.
Of all the essays I think "Ghosts" lingers in my mind the most because I have people close to me who've had similar experiences. What do you think these phenomena say about the possible relationships between the ghosts and the visited?
In "Ghosts," I write, "I'm not writing about all the ghosts here." I wrote that essay long before our cross-country trip to Indie's university, when we stayed in several AirBnBs, houses built around the 1920s or before. Ghosts followed us, or else there were ghosts specific to each home. I don't know. In one house in Indianapolis, I don't think either of us slept the one night we stayed there. When we walked into the back door of the house, Indie turned to look at me, later telling me she assumed I wouldn't want to stay there because it smelled like someone smoking had just left the room—I didn't smell it (odd as an ex-smoker). When she was settling in an upstairs room, the lock on the door jiggled—she turned and watched it move. She called me upstairs, and we tried to figure out if the AC or a draft had done it, but we couldn't recreate the move or sound. We went back downstairs, and just as we sat down on the couch, we heard a door upstairs creak and shut. That was the only time we were unsettled on that trip. I have a photo of every house we stayed in on that trip, except that one.
Indie and I have both come to distinguish between the ghosts we know and the ones we don't. Whatever was in that house in Indianapolis was unknown to us, and the morning we pulled our suitcases back to the car, we felt like we were being watched. In "Ghosts," I tell the story about the night of my mother's funeral, how she stood next to Indie on the foldout couch in the living room, then at the doorway to my parents' room, where I was sleeping. There have been other visitations and odd placements/replacements of objects since then—I may be losing some readers here who don't believe in such things, but hopefully, some readers are nodding, yes, I know.
Memory and place are strong themes in "The Return" and in "The Rooms." You write, "In our memories, there are rooms we'll always be standing in, saying one thing or another. Or not saying what we should." This is such an evocative sentence and one I think will stick in the minds of your readers because who hasn't had that memorable conversation with someone or, on the flip side, failed to say what should have been said. These are moments that crystalize in your memory. You thought about what your last words would be to Indie when you left her at college, a tie-in to the memory passages. How did your surroundings play into the now-memory of that moment?
When Indie went inside her dorm after our goodbye (parents weren't allowed in the dorms due to the pandemic), I took a photo of the propped-open door of her dorm, the steps leading up to it. On my way back to the rental car, I stopped on the sidewalk across from her dorm and took a photo of it, too. I remember feeling so proud and lost and alone. In the last essay of the book, "Return," I write, "Right now it feels like a part of me will always be standing on the sidewalk outside Indie's dorm, cupping her face with my hands to say the last thing, then watching her disappear through the propped-open door." Every once in a while, I'll come across that photo of the dorm door on my phone, and I know that statement is true. Sometimes, like just now while writing this, I'll look up at the door to our apartment and remember her there, turning to look one last time at the apartment on the day we left for her university. All these doors—portals to memory, yes?
"First Snow" is a lovely, concise micro-essay that I love where snow ice cream makes an appearance. In "Lasts" your mother enjoys a beverage that tastes to her like snow ice cream. These images conjure a nostalgia that I imagine is a part of the complicated relationship you had with your mother. In "Pendulum" you talk extensively about your mother, your relationship with her, and Indie's relationship with her – how different they were. Can you talk about that a bit?
Thank you. I love that I bought the last thing my mother ever ate, a Starbucks Vanilla Bean Creme Frappuccino and that it was something she truly loved because, as she said, it tasted like snow ice cream. My mother never said a word about her dying to me. Her only mention was in the hospital during her final days, when she wanted me to get her another Frappuccino. She told me to get her purse, but I told her I had money. Then, she said, "I want you to know where my money is when the time comes." That was it. It's a metaphor for our relationship, that moment. So much unsaid.
But she and Indie talked easily, texted often, had an ease to their conversations. Indie even stayed the night in the hospital with my mother on what turned out to be her last night—I believe they intuited it would be her last night and they wanted to spend it together. What a gift for both of them.
I had a similar relationship with my maternal grandmother. She and my mother had such a strained relationship, so much so that it was painful to be in the room with them at times—all that silence, but my grandmother and I had real conversations and exchanged letters until her death. I still have them, and re-read them every once in a while.
Indie used to tell me she experienced the same tension around me and my mother. I regret that. For all of us. And I've apologized to Indie for it, too. When you have a difficult relationship with the person you're losing, the grief is compounded—grief for what you're losing and grief realizing what you never had.
Mother-daughter relationships are often complicated and/or rocky. I feel like you've given the reader an extraordinary look into how you built a very solid and trusting relationship with your daughter. It's clear she was your #1 priority but, in reading, I never felt you were overly protective or clingy.
Thank you. I worked hard at that. Wasn't always successful, but I wanted to always give her her space.
I have to say I love the last three lines in "The Envelope" and wrote them in my journal. They feel to me like a mantra as well as a perfect ending to the piece.
Oh, thank you. I remember my PR editor loved that line and shared it with others on the staff the day I sent it to her. It was a line I worried about—I told her I didn't think it worked. Isn't that funny?
Jill, thank you so much for talking with me. It was a pleasure!
Order The Last Year from Bookshop.org.
---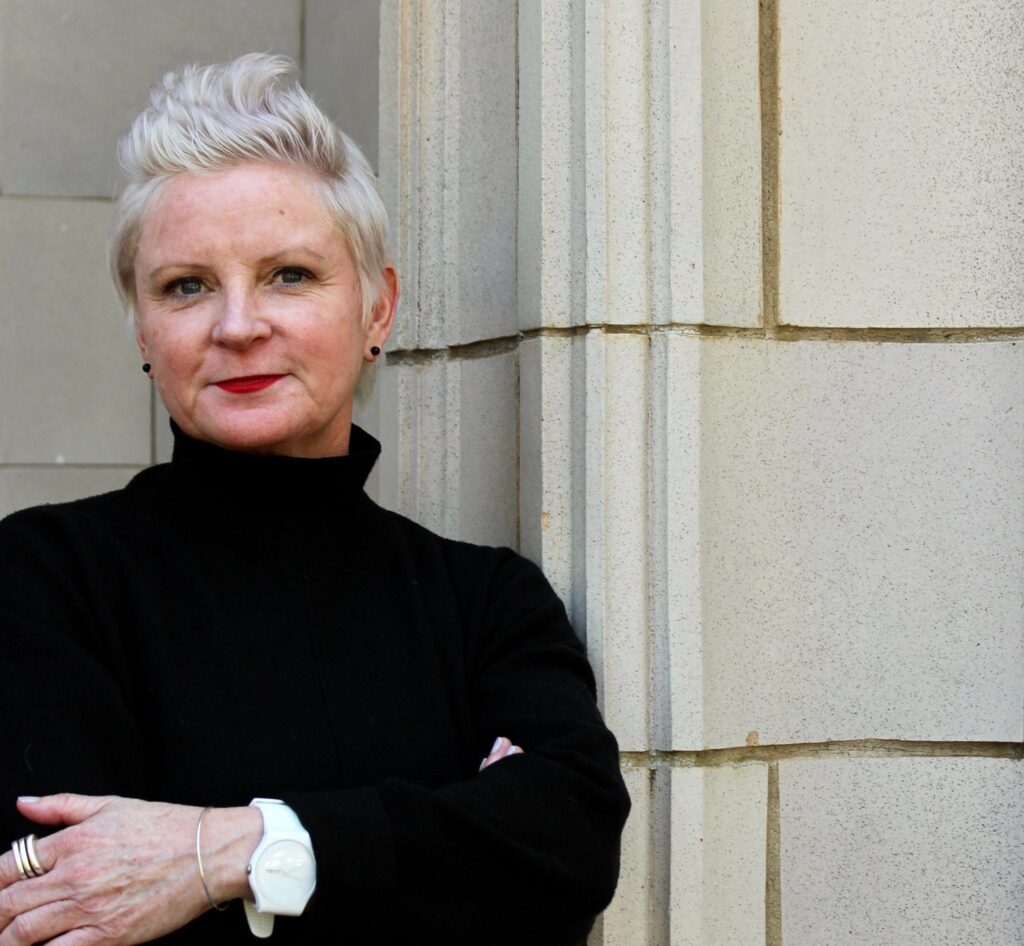 Jill Talbot
Jill Talbot is the author of The Way We Weren't: A Memoir and Loaded: Women and Addiction, a collection of personal essays. A Distant Town: Stories, won the 2021 Jeanne Leiby Chapbook Contest and was published by The Florida Review. Her essays have appeared in AGNI, Brevity, Gulf Coast, Hotel Amerika, Lit Mag, River Teeth, Southwest Review, The Rumpus, and The Paris Review Daily, among others. She is Associate Professor and University Distinguished Teaching Professor at University of North Texas.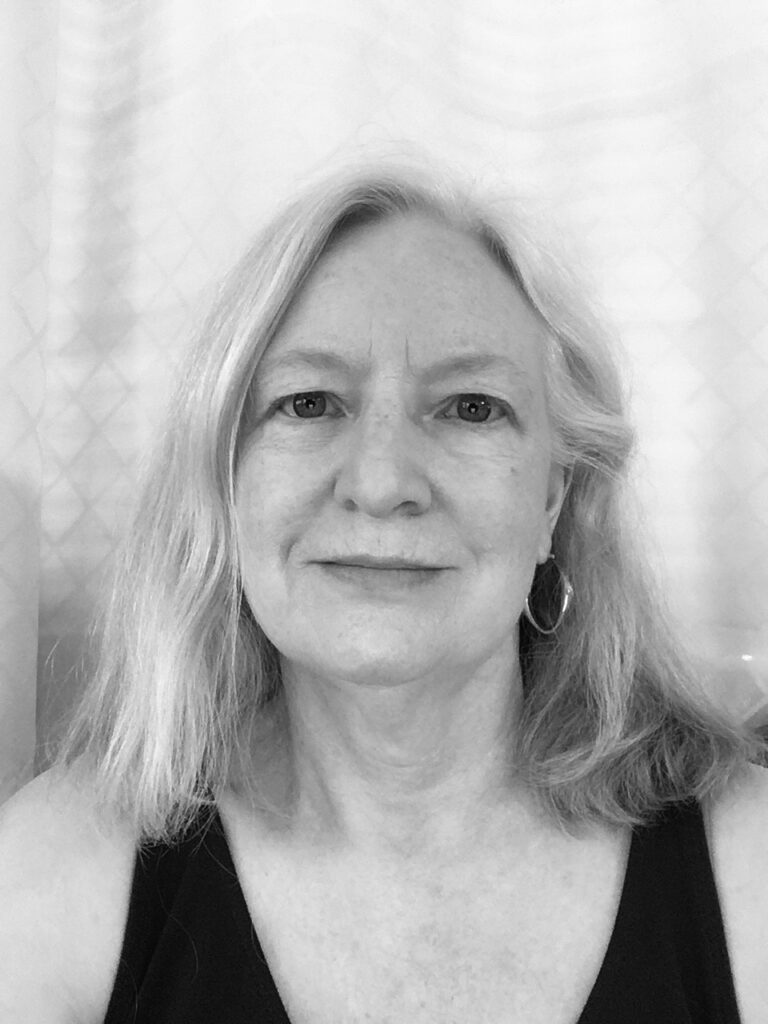 Charlotte Hamrick
Charlotte Hamrick's creative writing and photography has been published in a number of literary journals and anthologies including Still: The Journal, The Citron Review, Atticus Review, Reckon Review, Trampset, and New World Writing, among many others. Her fiction was selected for the Best Small Fictions 2022 anthology and she's had several literary nominations including the Pushcart Prize, Best of the Net, Best Small Fictions, and Best Microfiction. She is the former Creative Nonfiction Editor for Barren Magazine and current Creative Nonfiction Editor for The Citron Review. She also writes intermittently on her Substack, The Hidden Hour. She lives in New Orleans with her husband and a menagerie of rescued pets where she sometimes does things other than read and write.