Flash Fiction by Anna Schachner
My sister has a pair of fake alligator boots that come up to her thighs. Tonight, on pills, she is only a little high—thigh high, she says—and asks for them. I pull them from her closet and hold them out to her. "No, you," she says, flopping her head against her pillow. I tug the first one on under my second-job uniform smeared with food stains from the dinner shift. My skin sticks but not too much. "He wants your other leg, too," she says. When I ask, "Who?" she answers, "The gator." She sits up and reaches to touch the boot's opening. "That's his mouth." Her eyes have that glaze, that belief. So I tug on the second boot, avoiding the teeth but feeding the beast.
On cue, my sister, who needs more money than I can make, gets a job at a car wash. It is famous for its mascot—a robotic gorilla that waves at passing cars. I am so proud that I wave back. I am so proud that I stop and treat myself to the Deluxe Wash and Wax, rims included, but at the car wash a few blocks away, the one with no mascot at all. I am Jane Goodall in reverse.
I find the glass pipe between the couch's cushions, my sister in the kitchen slumped against a cabinet on the floor. She wears ancient, tattered jeans, hand-me-downs from me, and, ridiculously, a sports bra. She curls her body into a ball, head to the floor. I count fourteen vertebrae in her spine, two more than the number of steps she's not taken in her addiction program. "I am a cat toy," she says, her voice muffled against the tile. "Where is the cat?" Under her fingernails is a dark arc of dirt—and DNA that I share. I don't mind the dirt. I call the cat, Tinkers, but she is hiding. I bend over and swipe at my sister's arm, wishing for claws that I wouldn't use. "Meow," I say.
A letter arrives for my sister. She opens it and reads a I-want-you-back plea from an old boyfriend, who shows up later with his pit bull in a collar covered with hearts and peace signs. Only it is not an old boyfriend, but an old dealer. I wonder what it is like to have someone like him, someone who loves you. The dog, I mean.
I take my sister to goat yoga, the monkey still on her back. She drops to all fours, but the goat just bleats and bleats, not moving, as if to say, And just where am I to go with that monkey there? My sister knows what I am thinking, swings her stringy, black-at-the-roots hair as if to say, "To hell," and smiles. "Welcome," I say to the goat, offering my sister a smug smirk, because I am, after all, hell's hostess extraordinaire. Happy, happy hospitable hell.
I rub my sister's feet, though it is mine that hurt.  Separating each toe, I see needle punctures. Ashamed that I let it get this far, I recite the famous nursery rhyme anyway, ending with "this little piggy called 'wee, wee, wee' all the way home." We, we, we—all the way home.
---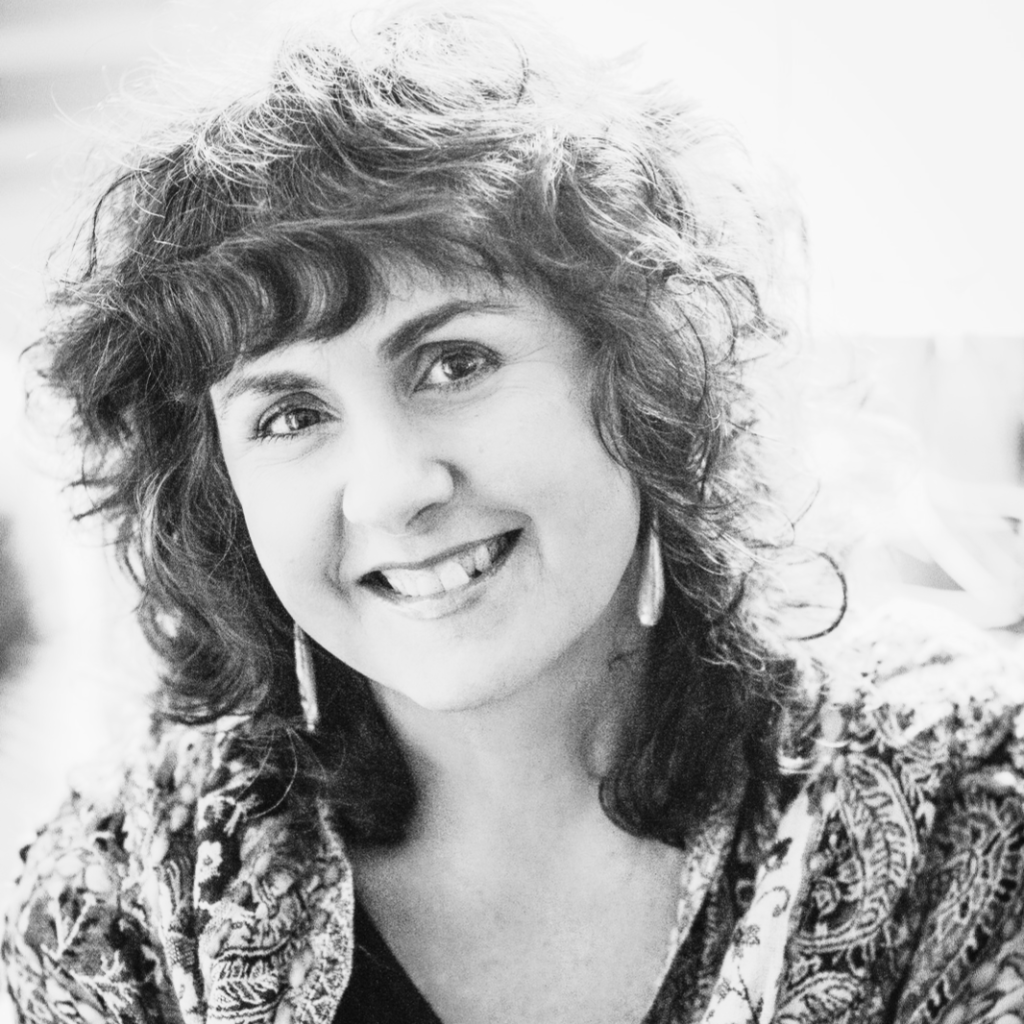 Anna Schachner
A former music journalist, Anna Schachner has published many short stories in journals such as Hayden's Ferry Review, The Sun, and Puerto del Sol. Her novel, You and I and Someone Else, was a finalist for The Foreword Indie Awards and was the finalist for the Georgia Author of the Year Award in literary fiction. The former editor of The Chattahoochee Review, she writes about books and literary culture for such publications as The Atlanta Journal Constitution and The Guardian. She serves on the Board of Directors of Reforming Arts, a nonprofit through which she teaches creative writing in the Georgia women's prison system. You can visit her at www.annaschachner.com.